May 4, 2018
11:30 PM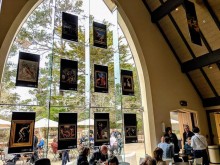 EG 2018 Day 1 Recap
Day 1 of this year's gathering started with an emotional ride.  Corin Lee of ETHEL delighted the EG community, kicking things off with a spirited violin solo.  Stephen Smith followed with a moving presentation on his work with the UK National Holocaust Center, including an interview with survivor Renee Firestone.  Richard Freund then took us further back in time, reminding us what archaeology is really about.  Next, Shari Stocker and Jack Davis made us rethink history and Carol Guzy shared her powerful photography that moved many to tears.  Faith and Peter D'Aluisio brought us into their battle with Mother Nature (in the form of the Sonoma County fires) before the first break.
Meanwhile backstage, Ralph Farris (ETHEL) and Tony Trischka connect and chatted about possible future collaborations.  Wouldn't that be something to hear?
Session Two started with Peter Bellerby (Bellerby Globemakers) sharing his handmade world of artisan globe making with us followed by Chris Sheldrick inviting us into a new way of mapping altogether with his "What 3 Words" approach to splitting the world up into 5 meter x 5 meter squares. Olivia McKendrick and Chris Rainier brought us up to speed on all things nature while the namesake to the Drake Equation Frank Drake (along with and Paul Horowitz) enlightened us on life beyond our galaxy.  Garrett Brown and Chris Fawcett inspired us with their latest state of the art invention, the Zeen, followed by Adobe's Russell Preston Brown who dazzled the EG community with his Photoshop wizardry (add a plane!). Finally, to wrap up the day, Stone Brewing co-founder Greg Koch updated EG on their latest prototype beverages and craft beer, leading to an invitation to try them out on the patio.
All and all it was an amazing start to EG 2018 with much more coming tomorrow!